ACRYLIC SCULPTURE
Working with CRYSIN
Custom Manufacturer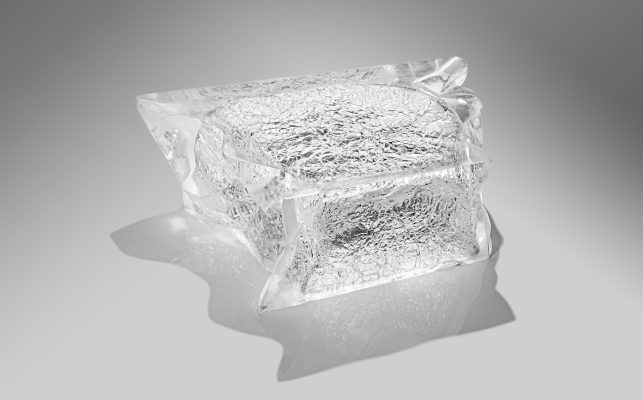 At CRYSIN, we understand creating physical bespoke products for the first time can feel like a daunting task, since they represent you and your brand. It's usually the highlight of the night, be that an employee recognition awards ceremony or closing dinner, and the pressure to impress is on. We have you covered with our unique skill set!
In our 10 year experience as a custom manufacturer, we have delivered countless projects. Working with people of all backgrounds including product engineers, artists and marketing. Our approach is fluid in nature and we can start the journey from an initial idea, a theme, a hand drawn sketch or full CAD drawings ready for manufacture.
CRYSTAL acrylic sculpture creates striking landscapes by transforming acrylic material into glistening bodies of water. Working for weeks to achieve a shiny, reflective surface, he transforms the common material into something that's spectacular and truly one of a kind. The pieces, which often incorporate additional materials like marble, take the form of monolithic blocks and tables. They resemble tranquil lakes, breathtaking mountain ranges, and the dusty sand dunes in the desert.
Acrylic lighting + illumination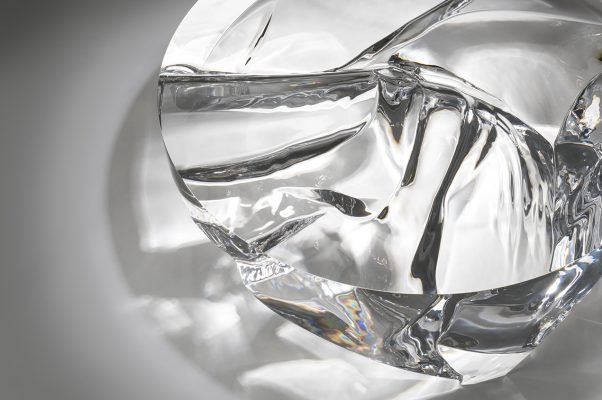 Sculptural forms, embedments, custom tints and precision engineering. Tailored processes to achieve unique effects.
Light + Acrylic
Bespoke acrylic lighting design
Blending acrylic casting with advanced machining and visual motifs daily,

Midton offers unparalleled expertise in acrylics for light applications.
We like to understand the themes, aesthetics and functions you want to achieve in your bespoke lighting design. Once we know your intent we can tailor our process and create beautiful, on-point products. Whether you're creating wall lights or hanging lights, we can work with you to create a variety of bespoke designs that are suitable for your project.
We focus firmly on small batch production, and our unique processes present new opportunities for bespoke acrylic lighting design. To better understand what can be achieved check out our pages on custom materials or shape + form.
Case Studies
Explore how we have helped clients craft their bespoke acrylic lighting design into reality.
Focus or Disperse

Well known for its versatility, acrylic has many properties that make it an attractive material for bespoke lighting solutions. Acrylic is popular in a range of custom lighting applications, from flush ceiling lights to staggered chandeliers.
Its high optical clarity and suitability for small batch manufacture make acrylic a genuine alternative to glass when creating forms to disperse light.
At Midton we exploit our unique production techniques to craft bespoke lenses for ambient, task and accent lighting.
Combining moulding, casting and CNC machining, we can help you create lenses with highly polished concave surfaces and complex surface forms.
To focus, disperse or create amazing caustic effects with an acrylic lens, get in touch.
Soften, Scatter, Diffuse
An acrylic lighting diffuser is an ideal material for softening your LED light source.
With the range of techniques available, we can provide an extra level of freedom to the designers we collaborate with.
When designing a space, you're likely to want to create a unique atmosphere. We can help with some, or a combination of, the following techniques:
Soften light with subtle variations in opacity and colour tone.
Scatter your light with unique shape and form, surface texture or frosted finishes.
Diffuse light with multi-layered castings and unique material effects.
To discuss using acrylic lighting components in your project contact our team. Alternatively, if you'd like some inspiration check out more of our work.
Our Team
We are delighted to have a creative team with a great breadth of skills and talent.
Well experienced in discovering the subtle nuances of brands, exploring the vision of artists and focusing on high tolerance of engineering projects. Our creative teams input, and output, has helped Midton, and those we collaborate with, represent the leading edge of bespoke manufacture.
Custom design and bespoke products are what we do best. Team up with our creatives and explore:
Graphic styles & Illustration.
Unique shapes & forms.
Material options & Colour effects.
Interactivity & gamification
It is our mission to lead the field and help you lead yours. We drive the generation of ideas, help you focus your concepts and deliver presentations for you to discuss with your colleagues and clients.
Our Processes
We develop each concept to ensure maximum impact for your brand.
Once the design brief has been confirmed, we collaborate traditional methods with modern technology. We collect our reference images and create mood boards around the design brief.
We make sure no small detail is forgotten about and believe that every detail is subject to development and refinement.
Using CAD software, we transform our sketches into refined ideas through 3D renders.
If we have a question, we answer it through sketches and quick tests and implement our learning in new methods and products which excel.
In time periods a fraction of other industries, without sacrificing our belief in detail and experience.
3D Modelling
We don't like staying still, and we don't plan on changing any time soon
New methods and techniques is an element that Midton thoroughly enjoys exploring. We've progressed from traditional sculpture techniques to digital modelling. Through the addition of 3D print technologies and 4th and 5th axis machining, we are now able to realise complex 3D forms.
3D modelling allows you to see a true likeness of your idea start to come to life through the advances of modern technology. Our skilled team can create a 3D object based on your chosen image files, by scanning objects or create an original design.
No matter what the project is, award or intricate lighting design, our team will be able to give you an insight into the final product.
Design for Manufacture
We work with you to develop your supplied designs, or create approved concepts, into designs fit for manufacture.
Keeping in with the approved budget, we explore cost and time effective solutions depending on size, quantity and complexity.
We draft technical drawings, type set them and then approve machine files before sending you a prototype to approve prior to manufacture.
We work with any feedback you have to ensure that you are 100% satisfied with the finished product.
We have invested in both the machinery and expertise to meet the challenge of any new engineering client who needs us to design and create bespoke objects and components for them.
Presentations
We create presentation files that take you from the beginning of your project to the completed piece
Depending on your needs, we will customise the presentation to you.
Through photorealistic renders, exploded views and section analysis, you will have a backstage look into how we created your unique piece. We can even send you an interactive file to experience your project in an exciting format.
As each piece is custom made to each client, why would our presentations be any different? If you are interested in the more technical aspects and want to see how we produce your project, let us know. We will be able to provide you with videos and images of your project throughout the different stages of production.
Our experienced team guides you through the creation process at each stage.
The unique and ethereal medium of fine art acrylic allows the artist to create animal art that appears to have a "fourth dimension."
The play of light in and through the sculpture often creates multiple images within a prism. A fine art acrylic sculpture (sometimes called a Lucite sculpture) can stand alone or work in combination with bronzes and other art. It can be placed in a window for sunlight to pass through, under lights directed at the piece or on a pedestal that lights the sculpture from below. Each illumination lends a new and fascinating effect.
The bold yet extremely delicate qualities of this medium can evoke powerful yet tender emotions. Sculptor collectors have described her fine art acrylic sculptures as "graceful, unique and full of life. They feel a spirit or soul emanating from the dog sculptures and horse sculptures that speaks to them of their own ideal.