Acrylic Resin Design Guide Case Studies
Luxface Acrylic was chosen because of the flexibility of the material to fabricate the form we wanted to create and the ability to light it.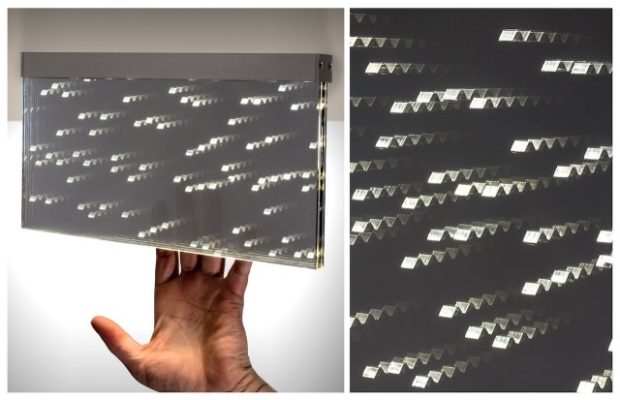 LUXFACE DEVELOPED AN ENTIRE PRE-LIT SOLUTION TO BE EASILY ATTACHED GIVEN THE ONSITE CONDITIONS.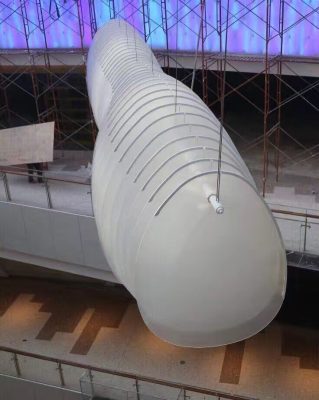 THE SOLUTION INCLUDED:
Acrylic Resin heat forming to achieve the desired radius
Luxface proprietary translucent material seaming
A custom engineered structure to bear the weight while minimizing the visible hardware
Custom LED lighting for even illumination
Consultation on the surrounding ceiling soffit to create the final integrated effect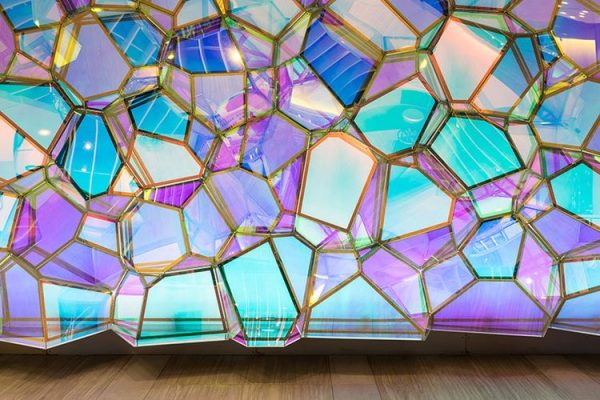 THE INNOVATION
The acrylic light seam creates a monolithic corner condition. CCD Design's innovative angled lightbox spurred Luxface to
pioneer a new light seam capability—a radiused, sloped joinery condition. This advanced method is now a standard Luxface offering.
Construction Details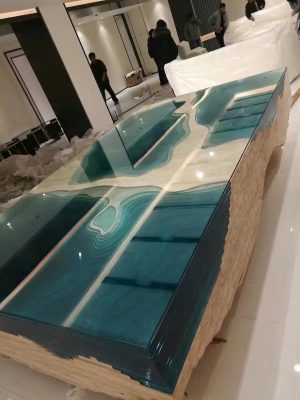 Light solution
Factory installed proprietary lighting. Tested to ensure an even glow and desired intensity.
Installation strategy
Designed custom hardware brackets to attach the Chroma feature to an on-site support system.
Hardware detail
Guided the architect to design a ceiling recess to enable concealed hardware.
A six inch reveal around the perimeter of the feature allows for future access to the lighting.
Panel-to-panel construction detail
Structurally bonded the material edge to edge to create a virtually seamless appearance.
Power supply
Guided the contractor to locate the power supply in a remote location.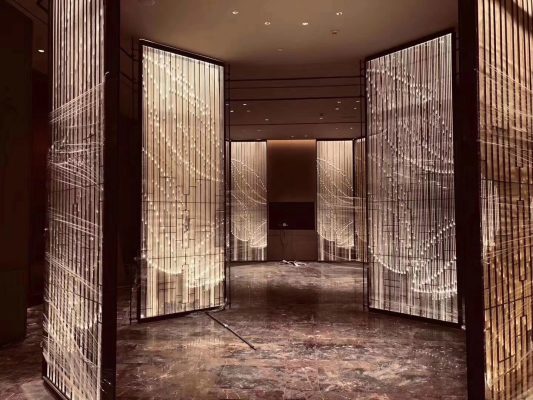 LUXFACE DEVELOPED AN ENTIRE PRE LIGHTING SOLUTION TO BE
EASILY ATTACHED GIVEN THE ON-SITE CONDITIONS.
THE SOLUTION INCLUDED:
Acrylic resinheat forming to achieve the desired radius
Luxfaceproprietary translucent material seaming
A custom-engineered structure to bear the weight while
minimizing the visible hardware
Custom LED lighting for even illumination
Fabrication of small, manageable sections to allow for future lighting maintenance
Contractor consultation on the on-site conditions for proper mounting
Light Design
RGB Expertise for Unlimited Design Control
Our team of illumination experts have years of experience working with translucent resin panels to create striking lighting features. Our systems are designed to meet the unique challenges of lighting 3form materials. Talk to us before you light your installation – we can save you time, trouble, and money.
Lighting Components
Different applications require different lighting hardware for optimal performance. 3form offers a number of proprietary lighting components including LT Series, MP Series, HP Series, and XP Series LEDs; as well as T4 Fluorescents.
Lighting Techniques
From back lighting, to front lighting, edge lighting, and even grazing – our lighting experts understand the optimal lighting techniques for the material, gauge, finish, interlayers, and application conditions.
Lighting Applications
Take the guesswork out of specifying lighting features with a variety of Ready to Go solutions that come complete with the right lighting already in place.
Get Started
Launch your light design project by getting in touch with a sales rep below.
Case Studio
Wall features
Hardware
Custom designed hardware solutions. From sliding doors and cable systems to exterior-rated solutions, you'll find a complete selection of architectural hardware for all resin material applications.
Fabrication
Let us take your project from panel to perfection. From complex projects to simple finishing details, our services include joining and seaming, custom and standard forming, edge detailing, etching and custom CNC cutting.
Edge Detail & Finishing
Utilize eased or chamfered edges, or even put a radius on the panel. Find the ideal finish for your edges, including sanded, flame-polished, or solvent edge.
Standard & Custom Forming
Formed resin panels are perfect as decorative cladding for walls and ceilings or podiums; or for use as a sculptural element in any space. 3form offers a number of standard complex curves, as well as completely custom solutions.
Flat & Angled Seams
Choose from tongue-and-groove, wavy, miter or spline joints. Our experts can help you determine the best joinery for your application and material selection
Etching
Etch lettering or a logo into the surface of your material to combine the usefulness of signage with the colorful luminosity of our resins to make a memorable impression. CNC etching and sandblasting create a beautiful frosted look.
Shapes
Customer Imagery
Customer imagery showcases premium quality imagery for translucent panels in Luxform, Luxtone, Luxcore,Luxglass,Luxice and Luxglass. Enjoy the power of custom imagery for your space with the performance capability of each translucent material.