Dichroic and Light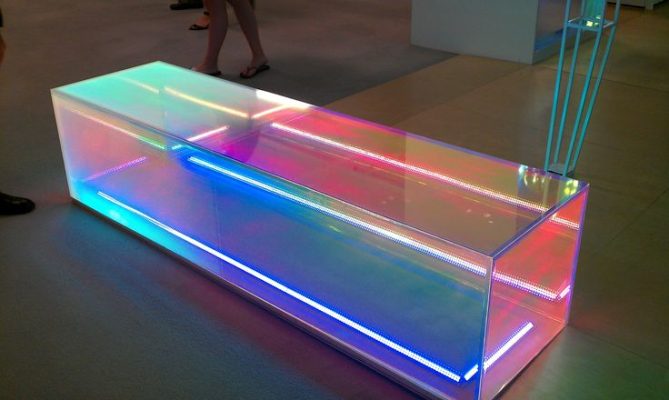 Wood's practice is primarily concerned with the medium of dichroic acrylic resin, which was originally developed by 3M space agency as a colourless material that filters and reflects wavelengths of light producing a spectrum of rainbow coloured shadows and projections.
Luxface Dichroic Acrylic Resin Finish offers a way to create unique, ever-changing color to many interior building surfaces. Influenced by the color of the substrate, this transparent product provides a dichroic color effect, meaning it appears to change color when viewed at various angles. Luxface Dichroic Acrylic Resin has a clear, pressure-sensitive adhesive that can be applied to acrylic. A hard-coated, protective surface layer helps resist scratching during normal use.
"Blaze" – color shifts in the warm tones of cyan/blue/magenta in transmission and red/gold color regions in reflection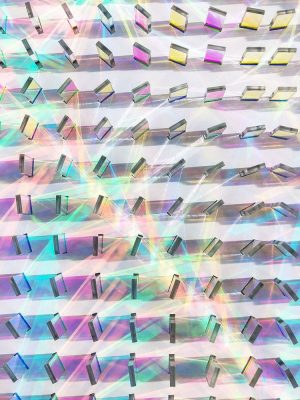 "Chill" – color shifts in the cool tones of blue/magenta/yellow in transmission and gold/blue color regions in reflection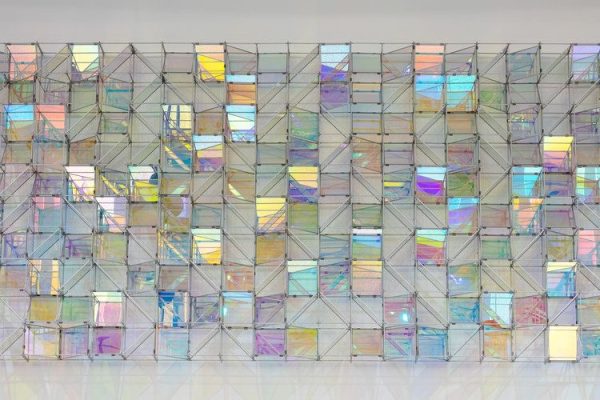 Working with the intangible medium of light, Wood orchestrates a range of high and low-tech optical materials to harness patterns of light that suggest ephemeral glimpsed moments in the natural world. The artist's sculptures are refined and often minimal arrangements creating kinetic patterns in response to the environments in which they are placed.
To fully appreciate the subtle qualities of each artwork, the Artist has produced a small selection of sample artworks for our art consultancy, available to loan on request. 
Adhesive Color

Clear

Adhesive Type

Acrylic based
Pressure-Sensitive

Durability

7 yr

Film Type

Multi-layer Polymeric
Polyester
Translucent

Finish

Gloss

Liner Type

Silicone-Coated Polyester

Removability

Permanent

Thickness

1.15 mil
Characteristic
DF-PA Blaze
DF-PA Chill
Material
Protective Layer
Hard-coated Polyester
Base Film
Multi-layer Polymeric
Adhesive
Pressure-sensitive acrylic, permanent
Release Liner
Silicone-coated polyester
Thickness
Film + Adhesive
5.2 mils (132 microns)
without Release Liner
5.0 mils (127 microns)
without Release Liner
Release Liner
3.9 mils (100 microns)
Roll Size
48 in. X 32.8 yds. (1220mm x 30m)
Film Color
Cyan/Blue/Magenta in
transmission
Red/Gold in reflection
Blue/Magenta/Yellow in
transmission
Gold/Blue in reflection
Technical Data Sheet
Revision E, September 2015
Product Performance
All of the data are calculated as theoretical value
and compiled with existing data. Product performan
ce data is based on test data deemed
reliable, but not warranted.
Product Use
The user is solely responsible for evaluating and d
etermining whether these 3M Products are suitable a
nd appropriate for any particular use or
manufacturing process in which they may be used.
Application and Removal Guidelines
Avoid scratching, denting, or stretching the Produc
t during installation.
The values in these tables are typical, and are bas
ed on test data deemed reliable but are not warrant
ed. See the 3M DICHROIC Glass Finishes
Installation Guide for additional information.
TE:
Removing the Product too quickly can result in exce
ssive adhesive left on the substrate. If necessary,
heat a small section of the film with
a hair dryer to soften the adhesive, peel back slow
ly, then heat and remove the next section.
Processing Options
Digital Cutting
This Product is believed to be suitable for use wit
h most digital cutting equipment, but the customer
must test and approve with their equipment
to determine suitability.
Printing
This Product is not designed for printing on the su
rface. If the customer chooses to print on the Prod
uct, the customer must test and approve
with their equipment to determine suitability.
Shelf Life and Storage
Shelf Life
Apply the Product within 2 years of the date of pur
chase. The storage conditions specified in this doc
ument must be maintained for full shelf life.
Storage Conditions
• 40°F – 90°F (4°C – 32°C)
• Away from direct sunlight and high humidity
• Clean, dry area
• Original container with end caps, in the plastic s
leeve, stored horizontally, a maximum of 6 cartons
high
• Bring the Product to room temperature before appli
cation
Characteristic
Value
Application Surface Type
Flat
Application Surface Material
Glass, acrylic, polycarbonate
Application Location
Interior Applications
Application Temperature
60°F – 100°F (16°C – 38°C) air and application surf
ace
Application Method
Wet application
Applied Product Shrinkage
Nominal
Applied Product Exposure
Temperature
-40°F – +149°F (-40°C – +65°C)
High Humidity Environments
Products are not recommended for Interior Applicati
ons where
condensation consistently occurs.
Product Removal
Low heat, or 3M Adhesive Remover Citrus Base and sc
raper