Artistic Epoxy Resin Surfaces for Wall and Furniture Design
Hand-Made . Unique . Bespoke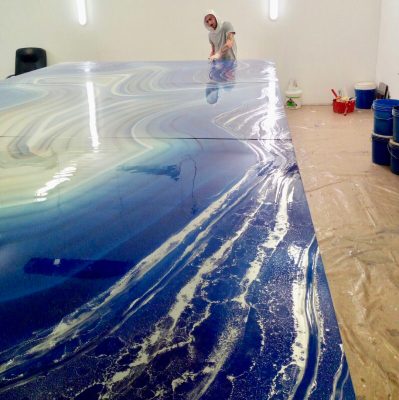 Luxsurface is a special hand cast resin combined with brilliant sparkle mica pigments. The goal of Luxsurface is create unique 3D effects by using hand finish and applying particular polish procedure. Luxsurface is a uique finish material with technology and creative which could satisfy the designers' custom colour and pattern.  The designers are able to select metallic colour included pure gold, silver, copper, and so on. Besides of these, Luxsurface has kinds of geometrical textures via the craft of curving such as Shagreen, Crocodile, Crackle ceramic…
| | | | | |
| --- | --- | --- | --- | --- |
| SUBSTRATE
 | SIZE* | USE | Applications | Available |
| Phenolic Lamination Sheet 0.05" | 1219mm x 3048mm x 1.3mm | Thin flexible material for curved applications | CURVED STRUCTURES – DOORS – CABINETRY – WALL PANELING – MDF – PLYWOOD. | |
| MDF
 | 1219mm x 3048mm x 19mm | No Added Formaldehyde Water Resistant | WALL PANELING – TABLE TOPS – SHELVING – CABINETRY | |
| MDF (Medite) | | Class A Fire Rated | | |
| Aluminum Honeycomb | 1219mm x 3048mm x 13mm | Water Resistant – Class A Fire Rated | WALL PANELING – ELEVATOR WALL PANELS – CEILING PANELS – VARIOUS DOOR APPLICA- TIONS – HIGH HUMIDITY AREAS | |
| Acrylic Sheet | 1219mm x 3048mm x 6mm | Water Resistant – Transparent for back lighting | TABLE TOPS – BACKLIT FEATURE WALLS – PARTITIONS – SHELVING – WET AREAS – SHOWER WALLS – COUNTERS – VARIOUS SPA APPLICATIONS ETC. | |
| Edge Material | 300mm x 3000mm x 2mm | | ANY EDGE DETAIL INCLUDING: DRAWER FRONTS – DOORS – CABINETRY PIECES – WALL PANELING DETAILS – TABLES – SHELVING – CEILING PANELS ETC. | |
Description:
Luxsurface special hand made panel is a high-end interior decorative material consisted of natural resin and multifunctional substrate. The raw material of resin panel ( 2mm thickness) is completely imported from the United States without any harmful substance such as formaldehyde. It is hand cast, hand draw and hand polish. For better use, we supply substrate. Included MDF panel, honeycomb panel, acrylic panel, phenonic panel, laminated panel. Someone is waterproof, someone is fire-resistant. Beyond the restriction of high humidity and fire safety.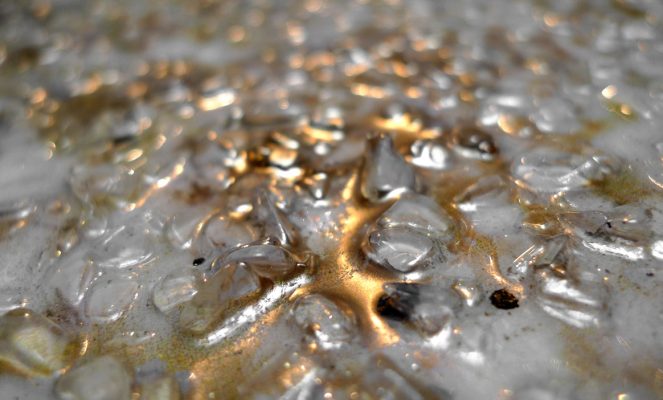 Each panel is hand-made and unique, a precious piece of art, incomparable and stunningly beautiful.
Features and Benefits
(1) Distinctive color, fine pattern, flash shining pearl effect.
(2) Showing special abundant  sense of hierarchicy from inner to out.
(3) Both has gorgeous brilliant like the metal and warm elegant like the jade stone.
(4) Luxsurface is flexiable, so it is easy to be bend for furnitures, installation in site.
(5) More important is that we provide custom color and pattern according to the clients' requirement.
Luxface resin surface poured flooring
Artistic Resin Lacquer Surfaces poured floors are a new innovation, bringing you the latest in polymer resin floor technology and limitless design possibilities.
Luxface resin surface
 poured floors:
   limitless design possibillities

bespoke options

sound dampening

scratch resistant

slip resistant

smooth & seamless

   soft to the touch

hard-wearing

flexible

UV resistant

durable and resilient

compatible with underfloor heating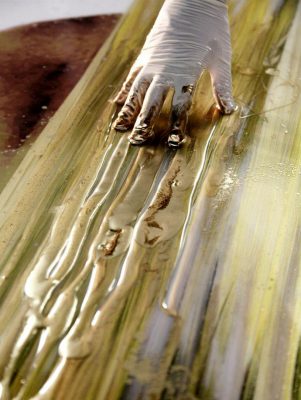 Our poured floors are blended and applied by skilled craftsmen. An entirely seamless system, they are easy to clean and hypoallergenic. Since the 1960s, resin floors have been in common usage in industrial, where their seamless, durable and functional features provided long-lasting solutions. However, they were never aesthetically pleasing. Artistic Resin Lacquer Surfaces we have taken our experience from industrial resin floors and added the creativity of interior designers to produce something special.
Our Artistic Resin Lacquer Surfaces are based upon proven resin floor technology. Artistic Resin Lacquer Surfaces we manufacture and install all our own products; we do not sell our products to any other installers so we keep full control of all aspects of the process. We are able to provide a single-source warranty that guarantees the standard of your finished floor. Finally, as a division of Stonhard, the world's largest manufacturer and installer of resin floors, we offer the peace of mind of working with a company that has been around for over 90 years.
Liquid Elements poured floors are perfect for a vast range of commercial and public areas: (For more on the examples click below)
AUTOMOTIVE
CANTEENS
DIY SHOPS
HEALTHCARE
LIBRARIES
OFFICES
PRIVATE SECTOR
PROJECTS
PUBLIC AREAS
RESTAURANTS AND BARS
SCHOOLS
SHOPS
SHOWROOMS
SPECIALS
SUPERMARKETS
THEATERS
APPLICATIONS
PARTITIONS
SCREENS
WALLS FEATURES
WALL CLADDING
WALL COVERING
BACKLIT WALLS
FRATURE WALLS
CEILING FEATURES
TABLES
SEATING
TRANSACTION
LIGHTING