Liquid Metal Coating Finishes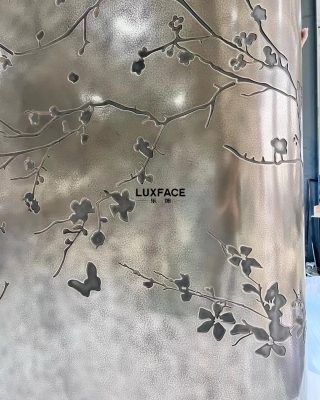 Luxface produces real metal coatings, which consist of 95% metal powder. The liquid metals can be painted and filled and can be applied to almost any surface. After surface metallic, Luxface has all the properties of cast metal, both visually and in terms of gloss and heat conduction.
Metal has increasingly become an element of interior design.The metallic surfaces offer shop owners, interior decorators, architects, interior designers and industrial designers a variety of options for creative, individual designs. The spray able metals can be processed seamlessly and are ideal for three-dimensional objects. Since the metallic coatings are suitable both for indoor and outdoor use, there are innumerable uses.
Almost any object of any given size and shape can be coated with the seamless metal skin in an entirely cold process without any heat applied. The finished surface is composed of up to 95% metal. Depending on the application type, smooth or structured metal coatings with various thicknesses can be generated. Objects finished with liquid metal not only look and feel like metal but also develop a natural patina if a certain design concept calls for an "aged" or "antique" finish. Alternately special oxidation agents can be used to create vintage finishes. The surface can be sealed or left in its natural state on request. Many coatings can be carried out directly, onsite and even on huge surfaces without jointing. Projects can also be made off site in our workrooms. The metal finishes are created by a certified master craftsmen to fulfill all customer requirements.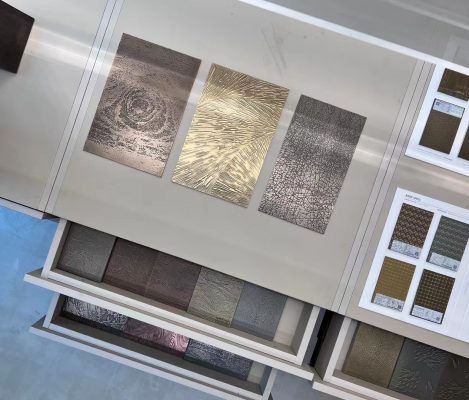 We offer comprehensive guidance about the various applications, possibilities, and finishing of the decorative liquid metal coating. Project specific samples can be provided upon request and the preparation of specifications is supported. We offer over 300 textures. You can discuss all technical details with our experts and artist.
We invite you to come to our showroom to experience the full range of textures, metal colors, and finishes.
Available textures
Landscape,printing,embossed,natural texture,river,tree,lava ect,cnc,rusty,shagreen,
Crocodile,crackles,KCD。
Available size:
Standard size.1220*2440mm,1220*3000mm
Customized size:seamless,unlimited,shaped size as per drawing.
APPLICATION AREAS
The possible uses of the Luxface surfaces are manifold.
Shop fitting
Architecture, facades
Furniture City furniture
Interior design
Wall panels, plastering
Prototyping
Kitchen
Metalized floors
Exhibition
Signage, advertising panels
Sanitary products, tiles
Cars/motorbikes/automotive
Stones
Concrete stones, -products
Sculptures, statues
Attributes
1:Luxface liquid metal are mineral based and made with high quality,
2:Natural ingredients that are toxin-free.
3:They are easy to use, affordable, and extremely low maintenance.
4:All of our products are sustaining for you, the environment, and the world at large.
5:It is visually unique, durable and resistant.
6:Unlimited Creativity
7:Excellent adhesion to almost all surfaces
8:Durable and resistant / hard wearing
9:Seamless metal skin finish with a natural metallic appearance
10:Takes on the Appearance and properties of real Metal without the weight
11:Fast Drying process – overnight at room temperature
12:Wide selections of metal colors & textures to choose from
13:Customized to achieve desired metal colors, textures and effects made to your specifications